Watseka Community

High School




Class Of 1962
REUNION PHOTOS NOW ON-LINE! CLICK ON "2012 Reunion Photos" at left.
Welcome to the Watseka Community High Class Of 1962 web site.
This site is for members of the WCHS Class of 1962, anyone who shared part of our journey but didn't graduate with us and special guests. If you are a member of this elite group, please fill out your profile page, send photos, make comments, etc. Spouses of departed class members, please register as your spouse and let me know it's you. Teachers and WCHS students from classes before or after ours please register as a special guest. I will review requests and submissions and put them up on the site. I especially encourage you to send photos from our past and at least one recent one of you. Also, many of us have developed hobbies, talents, etc. Please share these as well. I know that Norman Finfrock makes beautiful jewelry, Jim Brock paints and Ron Hari builds furniture. It would be great to have pictures of their handiwork. Likewise for anything you are proud of.
Anyone can view this home page and the general photo page but no one except registered class members and special guests will be allowed to view your profile and contact info. If you want to keep your contact info private, please note that and it will not be displayed. It will only be used to send you info about reunions, etc.
Finally, please send me any missing contact info you have on classmates or corrections to what I have. Hopefully, we'll be able to track everyone down by the reunion.
Vince O'Brien, webmaster (well I'm learning to be one)
P.S. I apologize in advance for the mistakes I know I'll make.
ANNOUNCEMENTS
The WCHS Class of '63 is holding their 55th reunion this coming fall. They have chosen to have it in conjunction with the all-alumni reunion dinner on September 15. They have invited the classes ahead and behind them ('62 and 64') to join them at a dinner on Friday, September 14. It will be held at the theatre like our last reunion.
This will be a great opportunity to catch up with people you haven't seen since high school. Since we didn't hold our reunion this year, you'll also catch up with fellow classmates. More details will follow.
Pictures taken at Neena's cookout are posted on the web:

http://watseka50.mmhphotos.com
Other pictures are here. Click on "2012 Reunion Photos" to the left.
Based on the Yearbooks, 93 of us entered WCHS as freshman and 67 of these made it to senior year. The senior class total was 73 as many joined us and left along the way. Altogether, 109 were in the class at one time or another.
The years each of us appeared in the yearbook are noted in your profile. When updating your profile, please leave this info.
I have listed everyone who appeared in one of our yearbooks and the information collected for the 2002 reunion. However, this site is under construction. Please let me know of any errors or omissions you find.
Vince
Commemorative Quilt
Maureen Sampson Nordruff made a quilt to commerate out class and many of us signed it at the reunion. It has been donated to the library and will be hanging there for a while.
.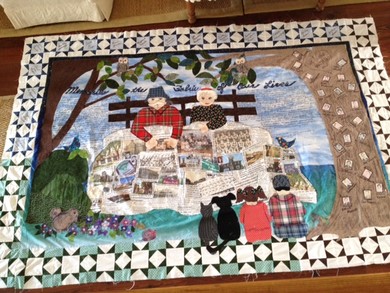 Missing Classmates
We have absolutely no contact information on the following:
David Allen, Ronald Francis, Joyce Gressen, Jean Harris, Nancy Hoover, Billy Hopper, George Irwin, Charles Kincade, Elizabeth Lehman, Robert McGilberry, Sharon Osterhouse, Larry Parks, Marie Phillips, Bill Rollins, Carolyn Rudisill, Howard Wheeler, Richard Williams, James Worden, Eugene Zabel
We have been unable to reach Gary Alver with the contact information we have and have not been able to find them on the interent:
If other people aren't listed as having an account, the contact information for them may be out of date. Please let us know if you have more recent contact information.